Streamlined Gaming: PlayStation Accessories for A Unique Gaming Experience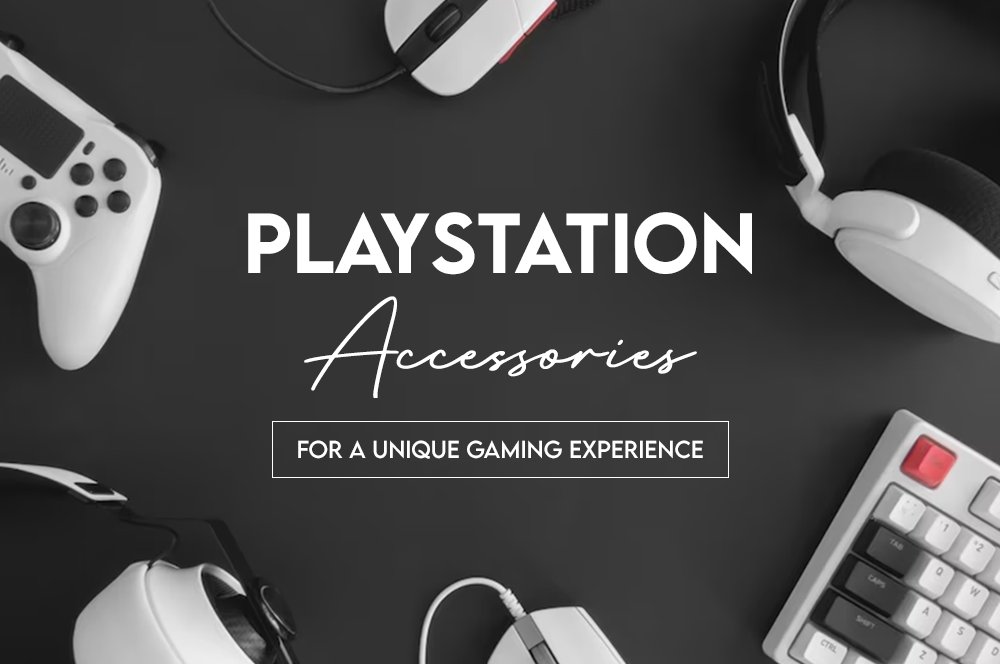 In the fast-paced world of gaming, the PlayStation has remained a prominent player, and the introduction of the PlayStation 5 has taken gaming to a whole new level. This blog post from iBhejo, your one-stop shop for high-quality gaming accessories, will examine how PlayStation accessories can elevate your gaming experience.
With the release of the PlayStation 5, gamers have gained access to a wealth of new features, an incredible library of games, and a surplus of accessories to enhance their gameplay. Whether you're a casual gamer or a dedicated enthusiast, this blog will help you navigate the world of PlayStation gaming, covering the PlayStation 5 store, online shopping, essential accessories, games, and even family-friendly options for kids.
Let's explore the PlayStation universe and learn how to optimize your gaming for the best enjoyment.
Navigating the PlayStation 5 Store and Online Shopping
The PlayStation 5 store is your gateway to a treasure trove of gaming adventures. It's where you can find and download the latest games, DLCs, and add-ons to expand your gaming library. The user-friendly interface of the PlayStation 5 store makes it easy to browse, search, and discover new content. The PlayStation online store is a virtual gaming paradise. Here, you can access a vast library of games, from timeless classics to the latest releases. Whether you prefer action, adventure, sports, or puzzle games, the online store has something for every gamer. Making purchases in the PlayStation online store is a breeze, but understanding the process can save you time and money. 
From choosing your desired game to checking out securely, we provide you with tips and insights on how to make the most of your PlayStation shopping experience. The PlayStation Shop often offers exclusive discounts and promotions that can save you money on your favorite games and accessories. Stay connected with iBhejo to discover the latest PlayStation Shop discounts and promotions, ensuring that you can enjoy gaming to the fullest without breaking the bank.
Must-Have PlayStation Accessories for Optimal Performance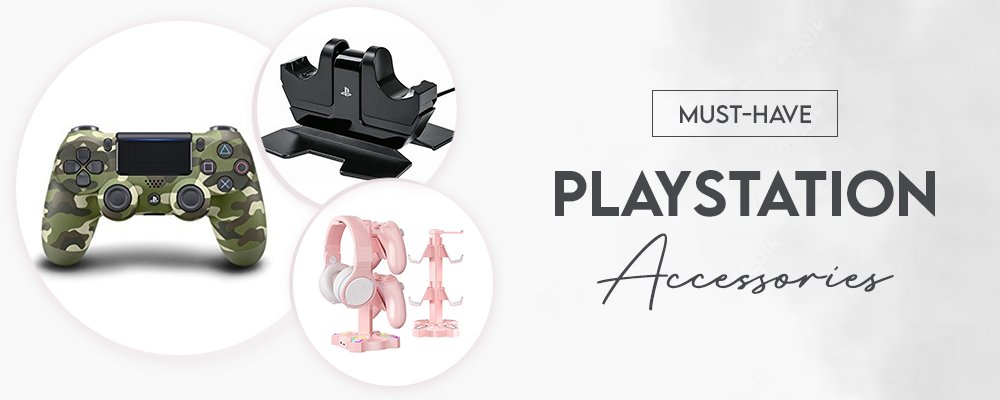 Gaming on the PlayStation 5 is an immersive experience, and to truly optimize your gameplay, you need the right accessories. From controllers and headsets to charging stations and cooling fans, we'll help you build a collection of accessories that cater to your specific gaming preferences and needs.
Your gaming experience can be greatly enhanced by selecting a

high-quality controller

.

The PlayStation offers a range of controllers to choose from, each designed to enhance your gaming experience. Whether you prefer the classic DualShock 4 or the innovative DualSense controller, we have you covered. Additionally, we offer a selection of controller skins and grips to personalize your gaming gear.

Sound is a crucial element of gaming, and investing in high-quality audio accessories can truly immerse you in the gaming world. We offer a wide range of

gaming headsets

and audio equipment to help you hear every footstep, explosion, and dialogue with clarity. Discover the best audio accessories for your PlayStation and explore options for both wired and wireless headsets.

To truly appreciate the stunning graphics of modern games, you need the right visual accessories. You can choose from a selection of

HDMI cables

,

gaming monitors

, and VR headsets to ensure you're getting the most out of your PlayStation 5's graphics capabilities. If you want to game in 4K resolution or immerse yourself in virtual reality, you can go for that too, as per your gaming needs.

Gaming can be a lengthy and sometimes intense experience, so comfort and convenience are key. There are

gaming chairs

designed for optimal comfort and ergonomic support. Whether you're a professional gamer or a casual player, the right chair can make a world of difference. In addition to gaming chairs, you can go for other comfort and convenience accessories, including gaming desks, storage solutions, and lighting options, to create the perfect gaming environment.
A Dive into the World of PlayStation Games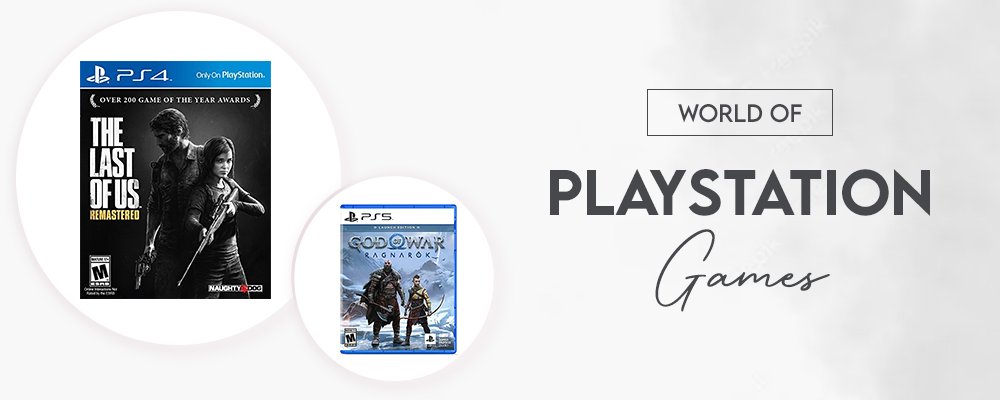 PlayStation possesses an extensive and diverse library of games that caters to every taste and style of play. We recognize the value of variety and are here to help you explore the vast collection of PlayStation games.
From action-packed adventures to mind-bending puzzles, you'll find classics like "The Last of Us" and "God of War" alongside innovative new releases. Our mission is to help you discover games that resonate with your gaming preferences and immerse you in captivating worlds.

Gaming isn't just about solo adventures; it's also about connecting with friends and gamers around the world. PlayStation offers an array of multiplayer and online gaming options that bring people together for competitive and cooperative play

The key to a satisfying gaming experience is finding the right games for your preferences. Choose PlayStation games based on your individual tastes and interests. Whether you're a fan of strategy, storytelling, or adrenaline-pumping action, we can help you find games that align with your gaming style. By selecting the right games, you can ensure that your PlayStation gaming experience is both enjoyable and rewarding.
At iBhejo, we understand that the world of PlayStation games is vast and diverse. Our mission is to help you explore this world, discover new favorites, and engage with a global community of gamers who share your passion.
Optimizing Your Gaming Experience
The beauty of gaming on the PlayStation is the ability to make it uniquely yours. Explore the various ways you can personalize your PlayStation, from customizing your avatar to choosing themes and backgrounds that match your style.

A clutter-free gaming setup not only looks better but also ensures you can focus on your gameplay without distractions. Select the right furniture, manage cables, and create an ergonomic setup that enhances your gaming experience.

To truly optimize your gaming experience, it's essential to harness the full potential of your PlayStation and its accessories. Learn how the right accessories, like high-quality controllers, headsets, and visual enhancements, can enhance your gaming performance. 
Conclusion
As we come to the end of this journey into the world of PlayStation gaming and accessories, it's clear that PlayStation is not just a gaming console; it's a gateway to immersive experiences, thrilling adventures, and unforgettable memories. With the release of the PlayStation 5, gaming has reached new heights, offering a level of realism and interactivity that was once only a dream.
Our blog post has covered a wide range of topics, including how to navigate the PlayStation store, the importance of essential accessories, the vast world of PlayStation games, and tips to optimize your overall gaming experience.
We hope that this post has provided you with valuable insights and guidance on how to enhance your PlayStation gaming adventure. By staying connected with iBhejo, you'll have access to the latest updates, recommendations, and exclusive deals that will take your gaming to the next level.
Embrace the future of gaming with iBhejo and create a gaming setup that truly reflects your style and preferences. Your unique gaming adventure starts here.
Thank you for choosing iBhejo, and happy gaming!